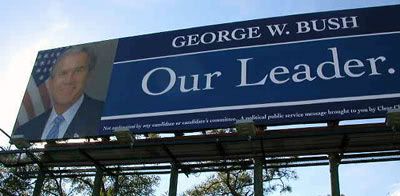 Mysterious 'George W. Bush: Our leader' Clear Channel political public service billboard graces Orlando freeway
A billboard recently put up in Orlando bearing a smiling photograph of President Bush with the words "Our Leader" is raising eyebrows among progressives who feel the poster is akin to that of propaganda used by tyrannical regimes.
This was first noticed on The Democratric Underground message board and confirmed by Raw Story. I first learned of this on Monday and it is so upsetting to me that I still can't even begin to put my feelings into words.